Myth of a Superhero
10:30pm, Saturday, January 26, 2019
Myth of a Superhero brings you a mixed bag of skateboarders, wrestlers, bikers, tough ladies, performance artists, bowlers and wild life. These Super 8 films reflect the tastes of when they were made. Myth of a Superhero is DO-IT-YOURSELF at its pinnacle; as independents these artists can make movies with something to say, something to entertain us, something to document, or just plain capture motion. Gems like Skate Witches and The Trilogy of the Parkdale Wrestler have been brought out of the vaults for your viewing pleasure. Not to be missed.
Curated by Milada Kovacova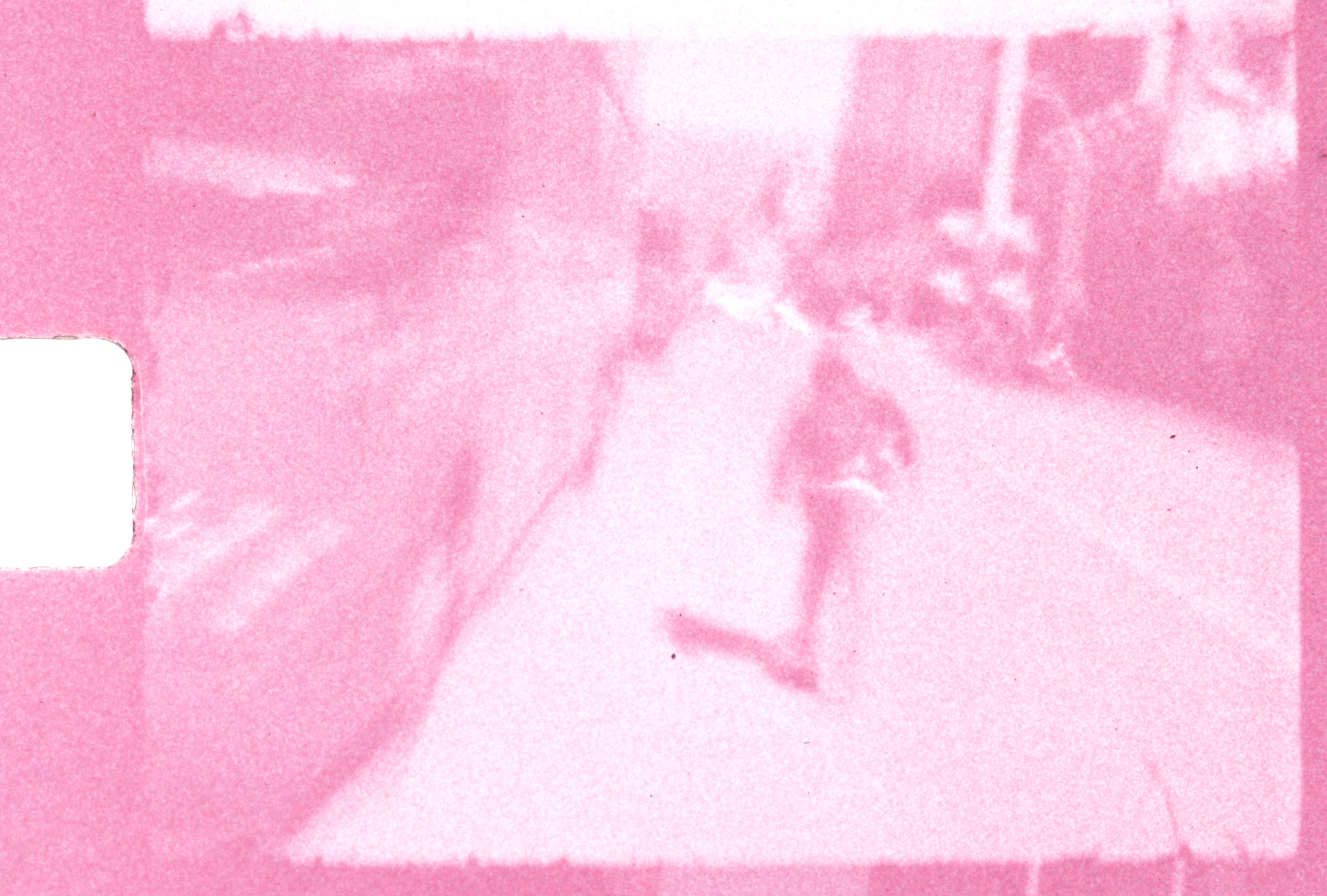 Danny Plotnick (USA)
Skate Witches
1986 / Super 8 on 16mm / sound / colour / 2:00
A gang of female Skateboarders and their pet rats terrorize all the boy skateboarders in town. Shot in an afternoon on Kodachrome 40 in 1986.
Danny Plotnick has been making Super 8 films since the mid-1980s. He has written a book about the history of Super 8 called, Super 8: An Unauthorized Biography. It will be released in October of 2019.
John Porter (CA)
Spadina Circle
2014 / super 8 / silent / colour / 8:00

A continuously circling view from John's bicycle of the University of To- ronto's old Art Department building at the centre of Spadina Crescent, a roundabout, shot from dawn to dusk, and including Toronto's old and new models of streetcars that also circle the building.
John Porter has been a filmmaker, performer, photographer and writ- er in Toronto since 1968. He has made 300 films and performed 100 solo shows internationally. 
Steve Kettings (CA)
Gore Park in Super 8
2017 / super 8 / sound / colour / 3:00
Friends enjoying the last of summer, skating around Gore Park – shot on location with the Nizo S126, in downtown Hamilton, Ontario.
Steve Kettings is a digital media artist from Hamilton, Ontario. He has a great passion for digital mediums including stop-motion animation, collage, and shooting and editing with super 8 film. Steve incorpo- rates these art forms through the branding of his business, Province Skateboard Company.
Stacey Case (CA)
The Wrestler's Vacation
1997 / super 8 / Silent / B&W / 3:00

This is a homage to vacation photography; the Parkdale Wrestler traces his travels with the residual images of him in front of atypical landmarks.

Stacey Case is a modern Hamilton renaissance guy who founded Trash Palace, the classiest cinema in Toronto.
Travis Hayden (CA)
Birds on T.V.
2000 / super 8 / silent / colour / 3:00
The present scientific consensus is that birds are a group of theropod dinosaurs that originated during the Mesozoic Era. Birds on T.V. illuminates this scientific fact.
Travis Hayden lives in Toronto.
Carol Cece Anderson & Bernard Deniger (CA)
Murder!
1983 / super 8 / sound / colour / 3:00
Murder! is a low-budget Super 8 horror movie. Cindy Mitchell, the best friend of Carol's cousin, and Bernard acted in the film. Carol Cece was the cameraperson. Murder! Was shot at Carol's mother's house in Ville LaSalle – a suburb of Montreal – circa 1982.
Bernard Deniger is a member of The Vestibules (aka Radio Free Vesti- bule), a Canadian sketch comedy troupe perhaps best known for the Dr. Demento Show, cult sketch hit Bulbous Bouffant, and for several appearances on CBC radio, TV and at the Just For Laughs Festival. Carol Cece Anderson is an actor, playwright and filmmaker, born and raised in Montréal, now based in Toronto. Her critically acclaimed play, Swan Song of Maria (A Tragic Fairy Tale), was produced by the Black Theatre Workshop in Montréal, and the Next Stage Festival in Toronto. www.carolceceanderson.com
John Porter (CA)
Bowling in Manitouwadge
2007 / super 8 / silent / colour / 7 min
Live narration by Edie Steiner, this is a tour of the centre of a small, isolated mining
town in northern Ontario, then John and his friends go bowling in the 4-lane bowling alley.
John Porter studied Film & Photography at Ryerson University, and he has received government arts grants, has taught filmmaking work- shops, and has written and illustrated published histories of alterna- tive film in Toronto.
Stacey Case (CA)
The Parkdale Wrestler Returns
1997 / super 8 / silent / B&W/ 3:00

The Parkdale Wrestler goes to the Bistro for perogies and wrecks the joint. He is beaten up and removed by the proprietor (Johnny Sizzle).
Stacey Case makes movies, played in punk bands, and has an amazing aptitude for silkscreening.
Martin Reis (CA)
My summer is with Olmo
2007 / Super 8 / Sound / Colour / 6:00

Man and machine in harmony. My summer is with Olmo is a joyride on two wheels through Canada's biggest metropolis. Original music composed by Tomasz Ciesla.
Martin Helmut Reis is a visual artist based in Toronto. His films have been featured on the CBC, in Canadian, US & UK Film Festivals and his photography is published regularly in Brick magazine, a literary journal.
Joel Watamaniuk (CA)
Untitled
2018 / super 8 / silent / colour / 2:00

This film was an experiment. Russian film stock expired in 1965, that Joel shot one afternoon while skateboarding with some friends.

Joel Watamaniuk is 32 years old. He lives in Kitchener, Ontario. Lacking technological aptitude, he picked up a Super 8 camera to film his friends when they were out skateboarding.
Travis Hayden
Farmstuff
2005 / super 8 / silent / B&W / 3:00

Chiaroscuro makes this farm animals depiction stunning.

Travis Hayden lives in Toronto.
Sergej Vutuc (DE)
The Body, painting I seen there
2018 / super 8 / live sound / colour negative / 3:00

Journey of traces of body, motion between colours of negative and perfection of moment, positive. After all, It may be a never-ending story.
Sergej Vutuc (DE)
TANKSTELLE
2018 / super 8 / live sound / B&W / 3:00
when the private space,
becomes abandoned
for game of speculation
fences set just frame for playground
stage for passengers, analytics
facing human urge of playfulness, reinterpretations questioning of forms and perceptions
passing by is drama, theater,
demos, history repeating in itself
who is playing
Sergej Vutuc's work has been about observing the (over)development of modern society and the privatization of public space; nature being conquered by concrete, concrete being conquered by the subversive act of skating. The work is based in nomadic movement through space and time, an endless sense of mobility, existence in between cities, countries, borders, worlds.
Stacey Case (CA)
The Parkdale Wrestler
1997 / super 8 / silent / B&W / 3:00

Man in wearing a wig eats mysterious mashed potatoes and turns into Arriba! the Parkdale Wrestler. Unfortunately he is no match for the menacing woman with the frying pan.
Stacey Case is an aficionado about Lucha Libra and has an awesome collection of Wrestling masks.
Louise Liliefeldt
Linytron Plus
2002 / super 8 / silent / colour / 3:00

My television from the mid-eighties. I decided to take it on. They don't make them like that anymore. To last.
Louise is a Toronto-based performance artist and paint- er. As a South African woman who immigrated to Cana- da at a young age. Louise's work draws directly from this culture and her lived experiences.