The Archive as Commemoration – Curated by Mahlet Cuff
"Radical thinkers who tirelessly imagined other ways to live and never failed to consider how the world might be otherwise" - Sadiya Hartman The act of making an archive varies from the intentional to the unintentional. As each person has their reasons for wanting to hold on to certain memories, thoughts, experiences, etc. To be able to think back within our own histories and reimagine what is possible for not only the past and future but to consider the now. The forms that can hold on to remembrance give opportunity to think beyond what archives can look like and who is able to tell stories about specific timelines. In this series of small gauge 8mm films they explore the ways that moving image is a tool for archiving diasporic histories, holding memory, passing down familial stories and how an archive is not constructed to one form. Each filmmaker has their own method of how they are able to translate their message through 8mm film, one that is vulnerable, tedious, laborious and a performance of commemoration. The program presents films by Hagere Selam (shimby) Zegeye-Gebrehiwot, Ufoma Essi, Sonya Mwambu, Nesanet Teshager Abegaze and Akosua Adoma Owusu
Hagere Selam (shimby) Zegeye-Gebrehiwot
10:00 / Canada / 2012 / Scratch Animation, Sand/Powder Animation, Drawing/Painting on Cells / Sound
A diasporic reverie on what life would be like if the filmmaker's family never Immigrated.
Sonya Mwambu
8:00 / Canada / Super 8 / Sound
Using Spadina Museum as its visual and contextual backdrop, "circa" is a piece that reclaims the agency of Black identities and bodies in Toronto's history.
Nesanet Teshager Abegaze
2:00 / Ethiopia & USA / Super 8 / Sound
An exploration of Ethiopianism, and the ways in which diasporic youth find strength in the Pan-African ideologies put forth by figures such as Marcus Garvey, Phillis Wheatley, and countless reggae musicians.
Hagere Selam (shimby) Zegeye-Gebrehiwot
5:25 / 2010 / Super 8 / Sound
yaya/ayat explores identities, being lost in translation and distance. But at its core it's about the filmmaker longing for a relationship with her geographically distant grandma and her journey to Greece to find her.
Akosua Adoma Owusu
9:00 / Brazil, Germany / 2019 / Super 8 / Sound
This colorful film takes us back to a time when it was impossible for African Americans to travel to Brazil and reminds us of the inequality still faced by the Black inhabitants of that country.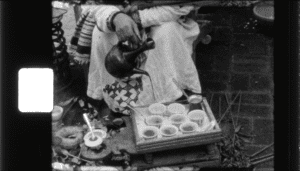 Nesanet Teshager Abegaze
7:04 / Ethiopia & USA / Super 8 / Sound
Bereka is an archive of family history as told by matriarch Azalu Mekonnen and her granddaughter Samira Hooks. The film captures the Ethiopian coffee ceremony and explores migration, memory and rebirth.